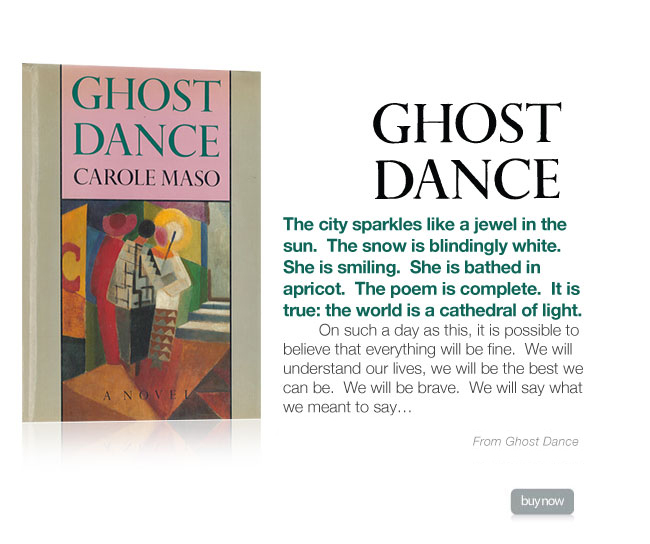 Ghost Dance
Ghost Dance is the first in a line of relentlessly experimental and highly esteemed works by Carole Maso. Ghost Dance is an elegy for a family broken apart and for a country wounded by injustice and corporate greed. Maso skillfully draws parallels between the personal tragedy and the larger tragedies unfolding in the country in this ambitious and deeply felt novel.

Vanessa Turin's family has been broken up by an event so devastating she cannot bear to face it straight on. Her mother, the brilliant and beautiful poet Christine Wing, seems simply to have disappeared. Then her gentle, silent father also vanishes, his car found outside New York Harbor filled with brochures describing fjords. And her brother Fletcher, travels in rage across the country, sending Vanessa fractured messages on picture postcards.

In Ghost Dance, the reader experiences firsthand the dimensions of Vanessa's longing, the capabilities of her imagination, the persistence of her memory, the ferocity of her love as she struggles to retrieve her family, to reclaim her country, and to come to terms with overwhelming sorrow..
Praise
Ghost Dance is at once history, myth, family chronicle, and an extremely original evocation of that elusive meeting ground of creativity and hallucination. Its prose is like poetry, it is an inspiring first novel.
John Hawkes
An exquisitely written and ambitious first novel.
New York Times Book Review
This haunting, often surreal first novel vividly captures the struggles of a young woman, Vanessa Turin, as she attempts to recover her family and her past…Unconventional and intense, this novel tells a harrowing tale of the human search for love and understanding.
Library Journal
Although author, Carole Maso follows the contours of fiction, style is everything in Ghost Dance a strangely lovely and perplexing book, a dazzling pyrotechnical display of word arrangements and sentence sculpting…Maso has a fine ear and her literary gift is impressive.
San Francisco Chronicle
Intensely demanding and rewarding, Ghost Dance is a novel about family, especially the bond between Christine Wing, a poet, and her daughter Vanessa, The mother, a celebrated beauty, is greatly gifted, an elaborate inventor, who looked squarely into the invisible…Vanessa's first person narrative shifts between imagination and memory; the present and the past; the real and the surreal…I can't remember a more striking depiction of madness, or the labyrinth family ties.
Los Angeles Times
We writing women are connected to one another, in permission given, trials encountered, styles developed. Part of the linkage of Carole Maso's brilliant first novel is her debt to Maxine Hong Kingston's The Woman Warrior. Kingston used family as archeology, taking the stones of family telling and arranging them on the beach of extended memory. Which is what Maso has done. The characters in her book are the typical American family of four, mother, father, sister, brother, living in the typical American town, Mystic, Connecticut. The difference is that this family, the Turins, has inherited or created the legends they live by.

The mother of the family is a poet of world renown, Christine Wing. The father of the family is a romantic, present but distant. The children are the heirs of these symbiotic traits. Vanessa, the eldest, inherits her mother's physical form and like the mother, writes. Fletcher, a year younger, speaks out for the silent things that have no speech themselves, flora, fauna, the environment. While the daughter is the chronicler, her brother is the activist.

Maso's book is interrupted chronology, sometimes antichronology, the history pushed forward, backward…The novel seldom falters. Its great scenes are orchestral.
E.M. Broner, The Women's Review of Books
Comparable more to musical than to literary forms, this first novel resembles a tone poem: its whispering minor-key passages rush suddenly into sexual ecstasy and return to, vary and enlarge upon the agonizing theme of death.

This is a restless book, inveighing against corporate power that gets away with murder, sketching brilliant pictures of farm life and lost customs, summoning the frustration that culminates in a strapped arm and heroin in the vein. Yet all these vignettes of anger and fear and searching are in the end the author's lyric expression of love.
Publisher's Weekly

Maso's immaculately written first novel is a sorrowful tale of a fugitive and fallen family. Vanessa Turin's mother, father and brother have all disappeared…In attempting to come to terms with the dissolution of her family, Vanessa obsessively replays in her mind key memories. These fragments from her past effectively relay Vanessa's great pain and summon portraits of her brilliant but troubled mother and her gentle, remote father…A stunning debut.
Booklist
In this irresistible first novel we hear a new voice, artistic, distinct and very female. Through the narrator's vision we perceive the special experience of being intelligent, creative and woman…Ghost Dance is also about Indians, the essence of America, and relationships in a very American family.
Rocky Mountain News
Vanessa's story comes together as a collection of fragments, small segments broken by dashes, memories, reflections, pieces of conversation, poetry and music, building one upon another, gathering momentum, breaking off, rebuilding again. Many of the scenes are repeated, as a pattern is repeated in a quilt or a piece of music; as one reads them for a second or third time, one sees the words through a slightly different perspective, altered with the added knowledge that comes with the pages in between…There were many, many moments in this story when I felt like Vanessa herself, standing open-mouthed as small acts of great beauty unrolled before me.
Gay Community News
Obsessive memories, both real and surreal, recur as a young girl tries to overcome the grief of losing her mother. A wonderfully delicate first novel.
Vogue
Seemingly unburdened by the demands of crpto-autobiography, which tend to overwhelm first novelists, Carole Maso instead makes a stunning debut with Ghost Dance. She has centered unerringly. Language is the writer's subject. Thus both in Maso's own luminous style, and also in the novels "story"—the life and death and legacy of the poet Christine Wing as recalled and re-imagined by her daughter Vanessa—the power of art and language is the focus of the telling. From the first page, Ghost Dance compels attention, admiration and involvement as it deftly draws us into the narrator's mixed vision of her mother the artist.
This is a novel about accommodating the gift in oneself, which is at odds with the world of sense and reasonableness. It is a beautiful and painful book because it says in incomparable language, the truth: that there can be no accommodation, that life is difficult and love even more so, that it will not be fine but still we live. The implicit hope throughout is that we will understand our lives, we will be the best we can be. We will be brave. We will say what we meant to say.y.
Helen Barolini, Belles Lettres