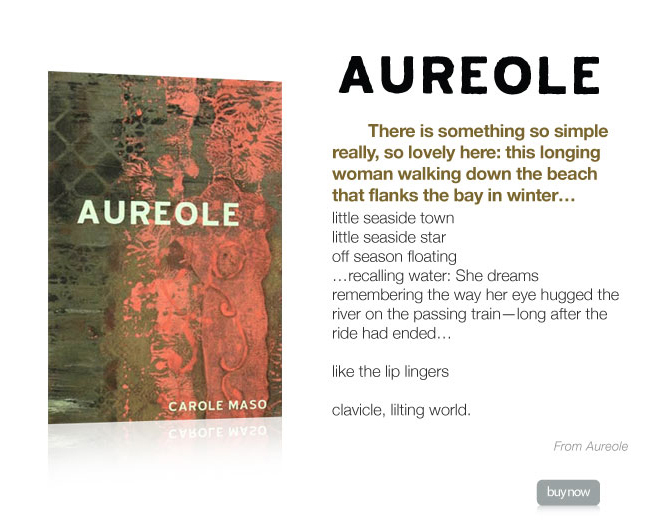 Aureole
An erotic prose poem sequence exploring the luminous, pulsing, transcendent nature of love and language making.

She sings, on that delicious precipice, longing, hip, the world—holds in her mouth: word and rosy pearl and world. Sweet apple. Violet breasted. Aureole animated by the erotic, Carole Maso's Aureole is a prose poem sequence exploring the many facets of language and love. Maso's early work like Ghost Dance were precise, sophisticated linear narratives that explained how the world worked. She has been moving towards a highly personal and impressionistic style in AVA and The American Woman in the Chinese Hat that explains, through the innovative use of language and cadence, how the world feels.

Aureole is a textured, linguistic and measured journey in which Maso makes us experience the sound and taste of the word itself with an eroticism of language that is as sensual and tactile as touch itself.
Praise
The fragile space—in the place right before the heart breaks—this is the space Carole Maso explores brilliantly and sensuously in her astonishing new prose fiction. Whether she is writing about two women washing lentils or a man's desire for a woman's pair of ink-stained hands, Maso charges her very sentences with such sexual energy that form and content literally become one. Reading Aureole is pure pleasure.
Marjorie Perloff
Carole Maso is a writer who succeeds brilliantly at relaying the fragile notion of life's enigma. In her four novels and now Aureole, a collection of short poetic pieces exploring the nature of sexual desire, she progressively flees what she perceives to be the artificial forms of traditional fiction. Instead, she tries to capture something of life's true rhythms, to express the extreme, the fleeting, the fugitive states that hover at the outermost boundaries of speech…For this is a book about the difficulty of thought, of truly feeling experience, of really connecting with the physical world—as well as the joy of trying.
LA Times Book Review
I want you in the liminal stage in the hovering, Maso writes, and this state of desirous, of sensuous being when the world and its minutes are steeped in wanting, refers not only to the lover but to language and Maso's marvelous tracking of the erotic surge of the phrase:

Oh the thousand pleasures of this world—in French, in English— Lustrous, glistening…

--a sexy, funny, smart and gutsy exercise—gutsy because Maso is never afraid of being too much in love, too graphic, too 'stylish.' There is a rare energy here and an even rarer honesty. But what is especially compelling is Maso's ability to simultaneously engage us as lover and readers, so that we mirror those women dizzy and mad for each other who make love as they read aloud, seduced by the infinite vocabulary of desire.
Rikki Ducornet, American Book Review
Maso goes further than anyone in exploring the hanging, gorgeous place between poetry and prose, dispensing with the clichés of most erotic writing to develop a more physical kind of writing to stimulate the various states of physical desire…

Each of her preceding novels pushed the envelope of what prose fiction can do, especially the groundbreaking AVA, but Aureole takes greater risks, dares more, shows greater variety than anything she's done before…

Borrowing techniques from film and poetry, nursery rhymes and pornography, rock music and painting, Maso goes further than any writer working today to create a style that does justice to the polymorphously perverse energy of eros. Carole Maso will make you see the angels.
Review of Contemporary Fiction
Carole Maso is not just a wickedly brilliant writer, but a daringly feminist one at that. At once challenging and transcendent, her luxurious prose breaks all the rules. With Aureole, she once again proves herself to be a fearless chronicler of that space where lust and literature collide.
City Pages Minneapolis