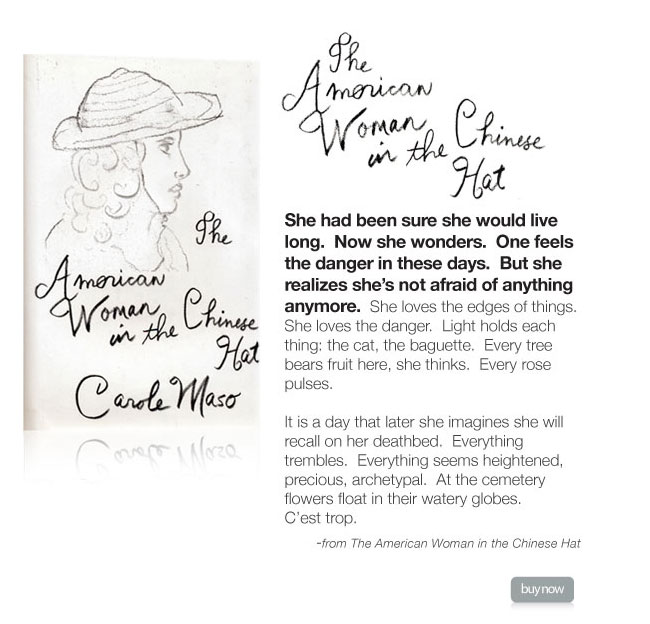 The American Woman in the Chinese Hat
Set on the beautiful, indifferent Cote d'Azur, the book is witness to an American writer's inexorable descent into madness.

Carole Maso's stunning, erotic fourth novel chronicles the irresistible adventures of Catherine, an American writer who has come to France to live. Set into motion by a single act of abandonment—Catherine's lover of ten years has left her—she falls deeper and deeper into an irretrievable madness.

With passionate abandon and detachment Catherine pursues her own destruction. Forcing the boundaries of identity she enters a series of blinding sexual encounters with a poet, a fascist, a young Arlesian woman, a fireman, and three thieves. Eerily she splits herself in two so that she is both the one who watches and the one who is watched, creator and creation, author and character. And I would like to help her, the one who watches says, but I can't.

Eventually Catherine meets Lucien, the solitary, cynical, beautiful man with the long hair who looks as though he has stepped out of an unmade film by the dead Truffaut, and through this mysterious, doomed, bittersweet liaison she makes one last attempt to halt her decline. She begins to invent the story of their lives, telling it to him half in English, half in French, joining their solitudes for a moment before losing forever her belief that the shapely, hopeful prospects of narrative can provide shelter, or make sense of experience, or save.

This mesmerizing drama of sex, betrayal, and dissolution with its inevitable conclusion is played out against the dazzling backdrop of the beautiful, indifferent Cote d'Azur in summer. Written in a dwindling lexicon with a simple, warped musicality, The American Woman in the Chinese Hat is a dark, uncompromising, seductive work of art.

Praise
Shrewd, subtle, unsettling, the artistry of The American Woman in the Chinese Hat lies in the intimacy one feels with the author—the kind of intimacy that Catherine herself fails to discover, but that the story of her doomed consciousness makes possible between reader and writer.
The New York Times Book Review

Maso's enchanting fourth novel unfolds in a fragmented, poetic prose that is exciting, delicious and lucid.
Publishers Weekly
Like Maso's AVA, this book may shock the genteel reader, but others will be enthralled. Highly recommended.
Library Journal
Maso's novel explores the relationship between eroticism and language: a subject much discussed in feminist circles but rarely illustrated with such precision and beauty.
Belles Lettres
Maso chronicles Catherine's disintegration in a prose that is precise and rhythmic. Catherine loses control but Maso never does in this exquisitely calibrated evocation of longing and lust.
Vogue
Ultimately, the book succeeds on many levels: thematically, formally, narratively, emotionally. More importantly, Maso seems to be in the midst of creating something new, and reading through her published works so far, one can witness a genuinely innovative and restless artist at work, developing, revising, and continually finding her voice. Whatever her literary indulgences, she is one of the few published contemporary writers in this exhausted age who is in the middle of an exciting creative struggle, moving on from her old work and making something happening now.
The San Francisco Bay Guardian
It's a book that begins and ends in a flash of light, with a clatter of voices all speaking French. In between is silence, a glass of wine, a knife, a dark room and a lot of passion.
Los Angeles Times Book Review
It is perhaps the book's greatest achievement that it can be read many times and still reveal something new, still offer secrets to be puzzled out. This open-ended yet rigorously composed fiction is far more satisfying that the artificial straitjacket of the linear narrative where everything must be neatly resolved, leaving nothing for the reader to reflect on. . . . When the history of the twentieth century is written, I have a hunch that Maso will be recognized as one of our greatest writers—and one of our greatest lesbian writers.
Lambda Book Report
Once again Carole Maso proves that high-wire fiction can be both narratively clever and emotionally compelling.
Magill Book Reviews
The writing is intense, beautiful, and without fail among the best in America.
Feminist Bookstore News