About Carole Maso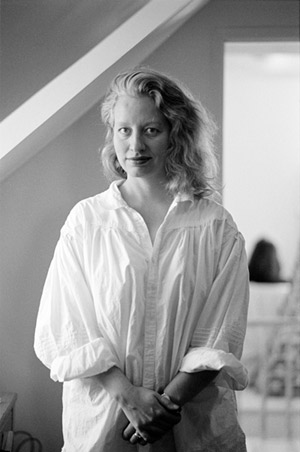 PHOTOGRAPH © Dixie Sheridan
I was born in Paterson, New Jersey (that mythic place of poetry and silk mills and the beautiful waterfall) in a three-story house with a stained glass window. At the time of my birth, William Carlos Williams was delivering babies in the next town. He could be said to have delivered me as well. I lived the eldest among many children and retreated easily and serenely into dream. In the summer we lived next to a lake and it was heaven. My father was a musician and played the trumpet for us. I loved painting, and also dancing, and playing the piano not quite so much. I have written my whole life and there is nothing else I have ever wanted. I have lived in some beautiful places: Cape Cod, NYC, The Hudson Valley, the South of France. I have lived simply and remained open and free so that I might hear as the great filmmaker Andre Tarkovsky once said, "beauty summoning."

I've written ten books. These include novels, prose poem sequences, essays and a memoir. Often I have had to resort to a form of my own making, exploring various literary, musical, philosophical and visual modes in order to get close to what my subject and my world require. Because the shapes I make are often not the conventional ones, I am sometimes dismissed by the mainstream. I believe my books, darkly imagined, deeply emotional, are no less accessible than others, and require only a certain faith and willingness to surrender in order to be entered. My desire is to create spacious fields of narration in which the reader might feel alive and vibrant and possible and free.

I am back to work on an enormous book, THE BAY OF ANGELS, having just completed a novel called MOTHER & CHILD. It follows a mother and child who traverse deeply mysterious and dangerous terrain, summoned every step of the way by wonder and dread and beauty. It feels lucky to be alive and to be able to make these sorts of forays into light and darkness.
Carole Maso June 2010